I couldn't be happier its Friday! And you all know what that means, it's time for another #fif's. This time I'm talking about ESTÉE LAUDER – Perfectionist Youth-Infusing Brightening Serum + Concealer.
Usually when I decide to try a product, I have already done some research to see whatever it's worth my well earned pennies. However on my latest browse I decided on whim (I know I live an exciting life) to try the new combination concealer by Estée Lauder.
When I tested it on my hand it right away put a twinkle in my eye.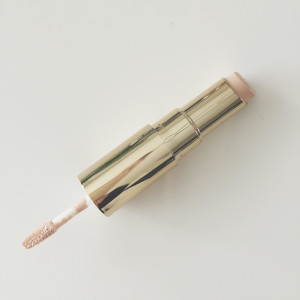 The Perfectionist Youth-Infusing Brightening Serum + Concealer (I know the name is crazy) is a multipurpose product with a serum on one end, and a concealer on the other. The serum neutralizes uneven skin tone and gives moisture, while the creamy concealer helps conceal the dark circles, spots or any redness. The combination of these two give the prefect amount of brightness and glow to the face.
This product blew me away right from the get-go. It did exactly as it promised and I have noticed that my make up looked much more dimensional. I got the colour 1C Light (cool) which suits my skin tone perfectly. I have added this step to my contouring routine (see my last post ;).

Here are the steps I take:
First I apply the brightening serum end, mostly under my eyes and little bit on top of my cheeks and the bridge of my nose.
Then I apply my foundation on top, as I normally do.
Following with the concealer end, I apply it under my eyes and anywhere else where the foundation didn't cover the imperfections.
Then I continue with the rest of the contouring.
To conclude this rambling post, this multi-tasking product gets the thumbs up from me. My pennies have been well spent (well not according to my mom) but what does she know! Give this a try and let me know how it works for you.